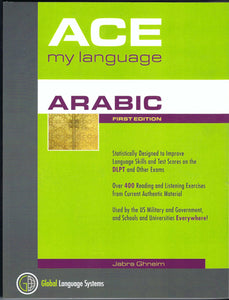 ACE My Language -- Arabic Edition is the only published book to prepare military, government and college language students for their DLPT5 in Modern Standard Arabic. The DLPT is a crucial test that measures the language knowledge of people who want to work in the US government with a focus on the Arabic-speaking Middle East. The book prepares students for the test and for their jobs. Guaranteed to increase your score on the exam. Includes 406 articles from authentic Arabic sources and a CD with the 406 articles recorded. This book is used at West Point, The Defense Language Institute, Foreign Service Institute and other military language schools around the country. All copies are in a brand new condition.

The ultimate resource you or your students will need to prepare for your job requirements as a translator, analyst or simply to prepare for standard Arabic language tests that examine your listening and reading skills. It is also a great resource for Arabic students in an academic environment or those studying Arabic independently to pass Arabic standard tests as administered by government agencies or academic institutions. Immerse yourself in Arabic like never before to get the results you want and improve your score.

The book and CD will provide you with:
Over 400 challenging passages, questions, and audio files by a native speaker of Arabic simulating the actual DLPT format for real practice testing experience.
Live material from various open media sources covering all DLPT content objectives including economics, politics, science, technology, geography, culture, social, military, and security.
Comprehensive exposure to critical terminology and vocabulary, both familiar and unfamiliar, in various contexts, to increase your overall vocabulary and to improve your ability to infer and deduce meaning.
Material of varying levels of complexity, including Arabic and foreign names of people and places, to challenge your listening and reading comprehension.
Your first Arab friend, Abu Farid, chiming in on every page with fun cultural commentary including jokes, quotes, and sayings.